Volunteers Extraordinaire
Article By Arline Chandler
The faces of Henk and Georgia Parson could personify a poster for volunteerism for the National Park Service (NPS). In 2004, NPS honored the Parsons with a Volunteer Accessibility Achievement Award for the 1,100-plus hours each donated over a two-year span to improving accessibility for persons with disabilities throughout Yosemite National Park. During a presentation in Washington, DC, NPS Director Fran Mainella, stated: "The Parsons have conducted hundreds of accessibility evaluations of facilities, services, programs and activities and have taken hundreds of digital photos to illustrate accessibility deficiencies. Additionally, in collaboration with the park editor, they have produced the 20-page Accessibility Guide to Yosemite National Park, and personally delivered the first copies to all of the park entrance stations. These dedicated volunteers have provided immeasurable assistance to the park, and to the entire NPS, in efforts to ensure that all visitors with disabilities can not only get into the parks, but once there, can receive the same benefits as other visitors."
Volunteerism is a way of life for Henk and Georgia, dating back to their retirement and a decision to live full-time in their motorhome. Along the way, the energetic Workampers have accumulated memorable experiences, picked up several awards in addition to the Volunteer Accessibility Achievement Award, and contributed thousands of hours to the betterment of national parks, the Bureau of Land Management (BLM), and U.S. Corps of Engineers projects. They started their first volunteer assignment one winter at Corn Springs, an isolated BLM desert campground in California. Their job description from the BLM office: Be a presence and collect the camping fees—if anyone shows up.
"From November until April, there were only 22 nights when we didn't have a camper," Georgia says.
The couple thrives on volunteer assignments that give them a sense of productivity. One summer, they volunteered at another BLM property, the John Jarvie Historical Site, a Utah ranch and trading post dating back to 1890. Henk points out that each assignment with the BLM is different. At Corn Springs, because of its distance from grocery stores, the Parsons received a small monthly stipend. The Utah assignment offered what Georgia called "luxuries," referring to the use of the manager's washer and dryer and part of an upright freezer.
In recognition of their tireless efforts and contributions to the BLM's volunteer program, they received in 1996 a National Award from the Department of the Interior, signed by Jim Baca, director of the BLM at that time.
Henk and Georgia traveled south and took assignments as volunteers for the U.S. Army Engineers, working as a public relations team out of the Corps office in Fort Meyers, Florida. "We developed our own water safety program and presented it to thousands of area school kids," Henk says. "Sometimes, we gave eight programs a day, using flip charts and colored posters."
On loan from the U.S. Corps of Engineers, Henk and Georgia consider their role as translators for the 1996 Summer Olympics in Atlanta, Georgia, one of their favorite assignments. They arrived a year early to help locals prepare for the event. In exchange for their presence in the day park at the edge of Lake Sidney Lanier, the Corps provided full hookups, a concrete pad, the convenience of a land line telephone, and a surrounding green forest. Their single duty? Opening the park's gates at 7:00 a.m. on weekends only.
The Parsons plunged into Olympic volunteer activities, using their skills in several languages to translate and converse with foreign athletes during the trial events. When the games began, Henk and Georgia drove daily for a month to a specific parking area to board a bus to the Rowing and Canoeing Venue on Lake Lanier. Henk translated German for the athletes and Georgia worked in the hostess area.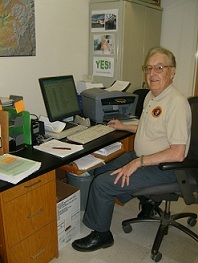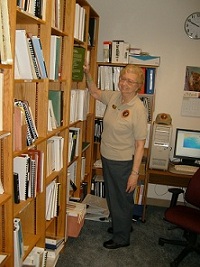 "When we started traveling, we intended to take a closer look at the Revolutionary and Civil War sites," Henk says. A volunteer assignment at Fort Sumter placed the couple in the middle of historical landmarks for both wars. For a summer, they parked under two sprawling oak trees on the remaining acreage of a plantation once owned by Charles Pinckney, one of the drafters and signers of the U.S. Constitution.
Georgia worked on entering into the computer letters that George Washington had written and the various replies to his correspondence. "To be looking at the actual hardwiring and to read their thoughts and savor the genteel language was an incredible experience," she says.
"Volunteers basically go in and do jobs that the regular personnel never have time to accomplish," Henk states, pointing to another assignment of entering into a computer the will of John D. Rockefeller, Jr. concerning his gift of land for Acadia National Park.
"Working under the National Park Land Management Department, we volunteered a summer of eight-hour days for four days a week to preserve the will," Henk says.
Georgia explains that the original copies were bound, tied with ribbons, and sealed with wax. "They were fragile," she continues. "We printed our work in triplicate, going over page by page to ensure that we had entered the information in the computer system correctly."
In September 2007, the NPS flew Henk and Georgia to Glacier Bay National Park, near Juneau, Alaska, to set up a document scanning program that they had developed over the past two years at Yosemite National Park. At Yosemite they had scanned into a computer more than 10,000 pages of Completion Reports documenting work in the park dating back to 1917.
In Alaska, the Parsons scanned documents related to a Vessel Management Plan, addressing the need to control the amount of sea traffic allowed into that precarious ecosystem. "In a month, we set up the system and scanned 3,000 pages of documents. We also trained one of the local Rangers to complete the work," Henk says.
Henk and Georgia live by their motto: Have fun while volunteering. They embrace each day with energy, enthusiasm, and a strong work ethic. The contributions they have made to America's public lands cannot be measured in dollars and cents.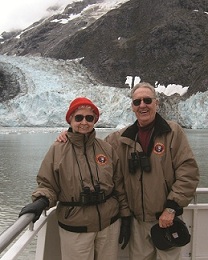 Seeking to start a Workamper job sooner than later? Planning...
Read more
This is a great way for people to find jobs while living in their RVs....
Read more