Santa Ana National Wildlife Refuge
Workamper Journal by Arline Chandler - Photos by Lee Smith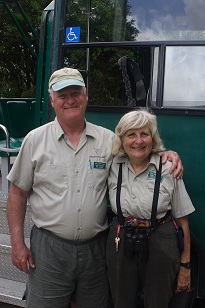 The Santa Ana National Wildlife Refuge called Linda Lanoue's name from the Workamper News Hotline. She and her husband Fred had spent a couple of winters in the Lower Rio Grande Valley, and had visited the refuge many times. "But we weren't looking for jobs in the winter of 2006-07," Linda says. "I hadn't even been reading the Hotline, but that particular day, the ad for volunteers at Santa Ana got my attention. We thought the volunteer roles would give us a chance to experience a different type of Workamping than we had done before. We already knew that the positions would be in an interesting place that we already liked."
Santa Ana listed its openings in early July, although the starting date was December 1. "We sent a short e-mail saying we were interested and would like to send our resumes," Linda says. "We were recruited by Martin Hagne, Director of the Valley Nature Center, a nonprofit environmental education facility in Weslaco, Texas. The Nature Center operates the interpretive tram at Santa Ana National Wildlife Refuge."
She explained that Hagne replied with a detailed list of duties, as well as what Fred and Linda could expect in return. "His messages were clear and facts about the job, including sharing duties with two other volunteer couples, were easy to understand," she goes on.
Fred and Linda e-mailed their resumes, along with a letter of recommendation from their last jobs. Shortly afterward, they received an e-mail requesting a phone interview. "Martin was very understanding about some of the potential problems phone communications can present to travelers," Linda states. "Rather than calling us, he gave several time frames during which he would be available, and even offered us weekend times, in case we were concerned about cell phone minutes. This was great for us, because we happened to be in an area with no cell service. We were able to call when we drove into town for groceries."
The director talked with both Fred and Linda by phone, giving each one ample time to ask questions. A few days later, they received an e-mail confirming that they had the jobs. Linda says, "The director replied to all three couples in one message so we had one another's addresses and could communicate before we actually met in person. We thought that was a nice touch."
In August, Fred and Linda received their training manuals. "I'll admit the manuals were a bit intimidating, but getting them in advance gave us a chance to 'study' and a better idea of exactly what we needed to learn. From our winter stays in the Rio Grande Valley, we were already familiar with the birds, so it was a little easier for us."
The Santa Ana National Wildlife Refuge, 2,088 acres along the banks of the lower Rio Grande, was established in 1943 for the protection of migratory birds. The thorn forest habitat that was typical before the Rio Grande River was tamed with dams and other structures is host or home to nearly 400 different types of birds, many of which Fred and Linda had observed in their previous visits. Other species, including the indigo snake, malachite butterfly, and the endangered ocelot, also live on the Refuge.
When Fred and Linda and the other volunteers arrived, they went through an intense two-week training period. "During those weeks, we worked five days instead of three," Linda says. "All of us did further research on the Internet."
The volunteers' primary duties involved three tram trips a day; each couple worked three days a week. The tram, which is owned by the United States Fish and Wildlife Service through a cooperative agreement with Valley Nature Center, runs from Thanksgiving to the end of May. Fred drove the 60-passenger vehicle on a seven-mile loop. Linda interpreted the history and other facts about the Refuge, especially making guests aware that Santa Ana is very special.
"We continued to learn as we went along," Linda says. "We even learned from our passengers, especially those who were from the area.
"To make the days come out even, two weeks out of every three, we worked one day for the Refuge," she continues. "The original plan was for us to work in the Visitor Center on that odd day, but since they had enough volunteers, Fred and I acted as 'Roving Interpreters.'"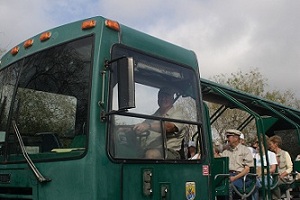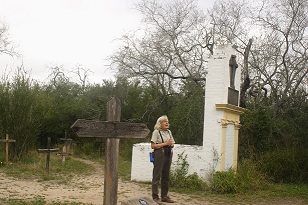 "We stayed out on the 12 miles of trails winding through the Refuge and pointed visitors to some of the more interesting places," she goes on. "We gave out information on birds, plants, and other living creatures in the Refuge. One of the other volunteer couples worked in maintenance, and another guided canoe trips on their Refuge days." In a previous life, Linda was an accountant and Fred was a mortgage banker.
"Believe it or not, we got into RVing because of our dogs!" Linda says. "We were tent campers, and we couldn't go off for the day and leave the dogs in the tent. I didn't like to board our pets, so we camped a lot less than we wanted.
"The bank where Fred worked had repossessed a fifth-wheel. Out of curiosity, he looked at it and thought, 'hey, this isn't bad.' Shortly after, we bought a travel trailer."
Once they got into RVing, Fred and Linda started hearing about fulltiming. They even met a few people who did it. "That got us to thinking, and the rest is history," Linda says. They sold their home in June 1996 and hit the road. "We planned to travel two or three years, and then start working," Linda says. "Our plan was delayed due to my sister's serious illness and numerous trips to Georgia to be with her."
The day eventually came when they looked for Workamping jobs. Fred and Linda determined to only accept jobs that paid for every hour worked. "Except for our volunteer position at Santa Ana, of course," Linda interjects. "Our intention surely limited our choices, but we had no problem finding positions.
"We worked for commercial campgrounds, primarily doing front desk duties. Fred sometimes did maintenance." she continues. "We believe that our willingness to pitch in whenever and wherever we were needed kept our employers happy and kept the job interesting for us."
Fred and Linda say they've always enjoyed watching birds, but once they started traveling, they became avid birders. "RVing is an ideal lifestyle for birders," the couple agrees.
Besides birding, they enjoy nature study in general, hiking, kayaking, history, and reading. "Traveling fits well with the first ones, and reading helps when we find ourselves in bad weather that keeps us confined in a small RV," Linda says.
However, all of their interests made them perfect candidates for volunteer positions at the Santa Ana National Wildlife Refuge.

Listen in to The Workamper Show – a free, weekly podcast...
Read more


Jackson Hewitt Tax Service
All these years after attending the 2012 Workamper Rendezvous I'm...
Read more