Incredible resource to RV rookies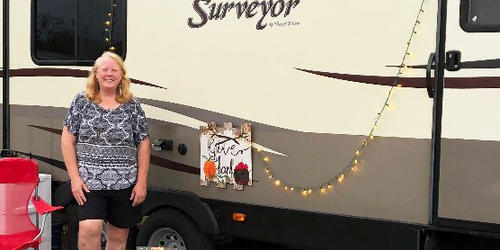 Before I found y'all I knew NOTHING about RVs or Workamping. I just knew I wanted to buy one & travel and somehow have some income while I did so! Through Workamper News I started learning RV & Workamping "A-Z"!
I basically spent my "COVID stay home & stay safe" year taking "online courses" within the library of my Workamper News Dashboard. Not only did it help my time of solitude pass by productively, I was learning the difference between a motorhome, travel trailer, 5th wheel; learning terms I'd never before knew of such as black tank, gray tank; learning things to consider & be aware of before I actually bought an RV; learning of the vast Workamping opportunities & locations available for REAL, rather than just an idea I had previously thought that was a figment of my imagination.
I soooo much appreciate Steve Anderson, his daughter Jody, and their team that does an amazing job to provide this incredible resource to us RV rookies!! In June 2021, I attended & PASSED the basic RV tech course offered by the National RV Training Academy (NRVTA) in Texas, but even more importantly, I actually found that I did understand the new info I was taught & developed the CONFIDENCE to move forward with my dream to become a Workamper & grateful for the peace & safe environment God led me to in order to integrate back into society & face to face interaction with people.
God used Workamper News & the NRVTA to peacefully & joyfully transition me from solitude to once again living amongst others as He opened the door & led me to my first Workamping job at "America's Best Campground in Branson, MO"!
- New Workamper Deanna M.

November 8, 2023
Receive 6 Bonus Months When You Join - Renew/Extend - Upgrade Your...
Read more

July 13, 2014
Tom and I are now three weeks into our fulltime RV life and it is great...
Read more