Coal Miner and Teacher Turn to Volunteering
Volunteers: The Melton's
Life is full of surprises and the Melton's wouldn't have guessed decades ago what they'd being doing now. What started as the a story of a coal miner and school teacher in the hills of southeast Kentucky, turned in to the story of two volunteers at Carr Creek Lake for the U.S. Army Corps of Engineers.
Volunteers have important and diverse roles at Corps lakes across the country. Some serve as park hosts, staff visitor centers, maintain park facilities, present water safety and other interpretive programs, work on fish and wildlife habitat, and more. People volunteer for many different reasons. Some people like the flexibility volunteering allows, want to make a difference, or want to gain experience useful in applying for paid jobs.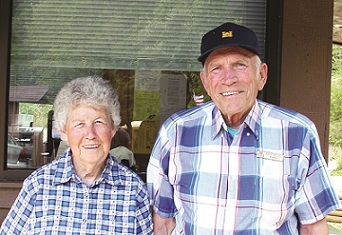 Abner and Jurline Melton are Workampers at Littcarr Campground on Carr Creek Lake in southeast Kentucky. The Meltons reside in Cincinnati, Ohio, but every summer for the last seven years, they have been making the four-hour trip south to volunteer. To say that they are doing it for the money would be a stretch since they are unpaid volunteer campground hosts whose only financial benefit from the workamping experience is a free campsite and the occasional invite to dinner.
Abner and Jurline are both from counties near Carr Creek Lake. Abner was born in the Wooten community of Leslie County, Kentucky and Jurline was born near Bald Rock, in Laurel County, Kentucky. They met during the one year that Jurline taught school in Wooten, while Abner was a local coal miner. Soon after they met, "hard times" came to eastern Kentucky and many of the coal mining jobs in the area were lost, so they moved to Cincinnati, Ohio in search of a better life. After arriving in Cincinnati, Abner went to work with the United States Steelworkers at Reliable Castings Corporation and stayed there for thirty-seven years. Jurline took a job with Plastic Molding Corporation for ten years before quitting to be a full-time mom to their two daughters and one son. They now have six grandchildren and fifteen great grandchildren.
The Meltons went back to the Carr Creek Lake area to visit fifteen years ago and began camping at Littcarr Campground. They decided that they liked that camping experience so well that they would try to stay all summer. That's when they approached the Corps at Carr Creek Lake and inquired about the possibility of volunteering as campground hosts. The Corps decided that volunteer hosts would enhance public service to the campers and smooth operation of the campground, so the Melton's began work. That was seven years ago and they are still volunteering their time today.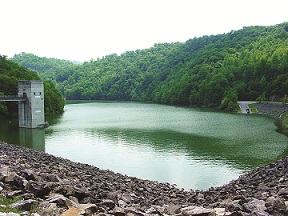 The Meltons perform many tasks on a daily basis in order to help the park attendants better manage the campground. They inspect the bathhouse and laundry room and inform the cleaning contractors of any problems, stock toilet paper, pick up trash that may have been discarded by campers on the sites, weed and water the flowerbeds around the campground, periodically ride through the campground on their golf cart to ensure no one is violating rules or needing help, lock entry gates, provide non-fee collection assistance in the gatehouse in the absence of the park attendants, pass out informational and water safety materials, clean the gatehouse and attend to many other tasks that enhance the beauty and efficiency of the campground.
The Meltons do not work a specific schedule, but rather work on an "as needed" basis during park hours of 10:00 a.m. to 10:00 p.m., from mid-April through the end of September. "We love camping, boating, fishing and just visiting with the general public and this gives us the opportunity to do all of that," says Abner. Jurline says, "we really love the country life and only return to Cincinnati in the fall because that is where our family is." Abner also stated, "we really love bluegrass music and in this area there are several places to see a good show."
Upon completion of the interview, Jurline took a kettle of green beans off the stove and loaded them onto their golf cart. "We're off to a pot luck dinner on site twelve," she explains as they drive off from their campsite. Seeing a sight like that helps one understand why the Meltons enjoy their workamping experience so well.
Those interested in volunteering at Corps lakes and projects across the country may visit the Volunteer Clearinghouse website at http://www.corpslakes.us/volunteer or call 1-800-VOL-TEER (1-800-865-8337). The U.S. Army Corps of Engineers Volunteer Clearinghouse serves as a matchmaker, pairing up skilled, enthusiastic people with Corps rangers that can use their services.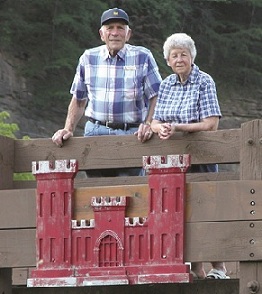 Read the July/Aug 2022 issue of Workamper News Magazine Online...
Read more


Making a First Impression as a Workamper
I love Workampers. They all have a great story to tell and the majority...
Read more