This life is possible!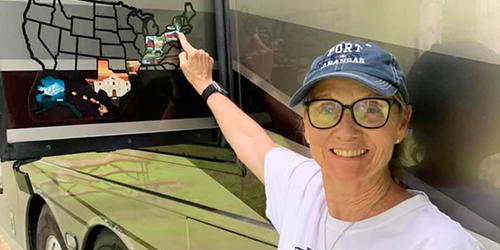 We love the full-time RV life. Tom and I have been full-time for about 15 months - sold everything and loving experiences and people we are meeting. It is truly full-time freedom! We live in a 2020 NEWMAR Dutchstar 4081 and tow a jeep gladiator. Tom and I are NRVTA certified and registered techs. We are truly blessed and grateful for the chance to experience this Nomad life! This really began with the Workamper Rendevous a few years ago when we realized that this life is possible! A quote that I just saw in Letchworth State Park brings this home: "Be happy for this moment, for this moment is your life."
- Workampers Mickey & Tom R.

September 14, 2022
If you've been with us for awhile, you've probably seen our...
Read more


Simple Maintenance Steps for RV Air Conditioners
June 20, 2020
May 5, 2017
I am 56 and hubby is 63. We sold our home and gave away most of our...
Read more