The Business Owner's Guide to Financial Freedom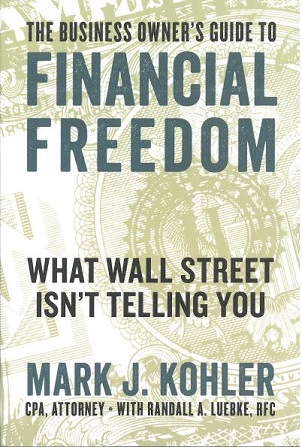 Take Control of Your Financial Future
Tailored for small business owners and entrepreneurs like yourself who are looking for long-term financial planning and wealth management, "The Business Owner's Guide to Financial Freedom" reveals the secrets behind successfully investing in your business while bypassing Wall Street influenced financial planners.
Attorney and CPA Mark J. Kohler and expert financial planner Randall A. Luebke deliver a guide catered to your entrepreneurial journey as they teach you how to create assets that provide income so work is no longer a requirement, identify money and tax-saving strategies, and address business succession plans to help you transition into the investment phase of business ownership.
"Mark Kohler's knowledge and expert opinion can save or make you thousands, if not tens of thousands, of dollars each and every year. This book is a must read for anyone who is serious about achieving or maintaining financial independence." - Bob Snyder, CEO, Renatus
"Ever since What Your CPA Isn't Telling You, I have been following Mark's work. I have saved my clients thousands of dollars by implementing his recommended strategies." - Angie Toney, CPA, Angel Financial Services LLC
"I have known Mark for over 15 years, and his legal and tax wisdom has truly changed not only my life but also the lives of those I coach and speak with at events on-stage. This is a must read!" - Dan Zitofsky, Owner, Zitofsky Capital Management
"Do you have a coordinated tax, legal, and financial plan? If not, you should read The Business Owner's Guide to Financial Freedom. Your professional and personal life is about to get a whole lot better." - Christian Hester, MD, Little Rock Eye Clinic
Paperback. 286 pages. By Mark J. Kohler, CPA, Attorney

Read the July/Aug 2022 issue of Workamper News Magazine Online...
Read more


Express Sugar Beet Harvest Jobinar
This is a great way for people to find jobs while living in their RVs....
Read more