Steve Anderson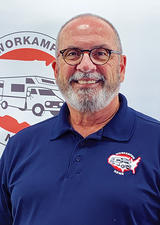 Steve and his wife, Kathy Jo, bought Workamper® News from the Robuses in 2005. For 15 years, he functioned as one of the main operators of our small company.
As a serial entreprenuer, he has created and runs multiple businesses working to develop the RV inspection and RV technician industry for consumers along with his business partner, Terry Cooper. For many years he traveled to multiple locations throughout the year to put on sessions of the RV Maintenance Course, which helped RVers learn about maintaining their own RV, plus take the first steps in becoming an RV inspector or technician. Starting in 2018, along with help from the Coopers, he organized and built the National RV Training Academy and BIG Red School House in Athens, TX on site at the Texan RV Park (which they also own and operate). The National RV Inspectors Association and RV Inspection Connection have played a vital role not only in helping everyday consumers feel confident about the purchase of an RV, but also in helping those who have suffered from a natural disaster receive a fully-inspected and repaired RV to live in while they rebuild their homes.
He is also focused on helping the RVer understand the benefits that running their own small business can bring and has built the Small Business RVer School providing resources for those desiring to work and travel.
Before Workamper News, Steve was the HR Director at Adventureland Amusement Park in Iowa for many years where he developed a very successful Workamper program. Prior to that he was a high school science teacher. Steve and Kathy Jo originate from Des Moines, Iowa, and have made Arkansas their home base since 2005.
Outside the office: Steve is a big fan of watching NCIS and movies. He also enjoys fellowship with friends and family, and spending time outside on their back deck with their dog, Charlie.

New Version of Workamper.com is getting closer to launch!
...
Read more


Answering the FAQs of Hiring Workampers

I just wanted to drop you a note and tell you how great this service is...
Read more