WKN Editor Jody's Birthday Gift
Posted by

staffadmin

on 04/11/2016
April is a great month! This is because it's my (WKN Editor Jody) birthday month AND because all RVers can enjoy special discounts offered by TechnoRV all this month!
Ever since Eric first announced the release of the new Rand McNally RV Tablet 80, I've thought it was something we should invest in. Sure, the map app works fine on my smart phone. And, yes, there's a GPS built into our F350 that tows our fifth wheel. But neither are RV-specific. If there's a device out there that can help ensure I'm not one of those RVs you see scraping their roof off going under a bridge in a viral YouTube video - then I'm going to get it!
RV GPS systems have been around for awhile, but this one has a few more whistles and bells that I thought could serve additional purposes - making the tablet an even better value.
And when Eric sent out his monthly e-newsletter (which is free and helpful, and y'all should sign up for it here) saying they were celebrating their one year anniversary of owning TechnoRV and offering DISCOUNTS - you bet I was on board! The specials are on GPS units and mounts as well as LED lights. Learn more below.
But first, if you haven't seen the RV Tablet 80 yet, please watch this video I recorded after I got this shiny new toy (via free shipping!):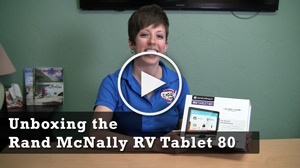 ---

From Eric at TechnoRV about their April Anniversary Specials!
To celebrate our one-year anniversary of owning TechnoRV, we decided to run a few sales we've never had before. Most will require a code since we will not be posting these prices online, so be sure to enter the codes in during checkout! We will also be giving away things to celebrate all month long on our Facebook and Instagram pages, so if you haven't liked us yet, it's a great month to do so! Now to the specials....

If you have ever thought about replacing your RV lights with LEDs, then now is the time. We are making some changes in our LED business model, and as a result all of our LED lights (except Fluorescent tube replacements and dimmer switches) are 50% off!! This is only for a limited time and it is only while supplies last. Once these that are marked at 50% off are gone then the sale is over. If you try to order more than we have in stock then the ordering system will let you know that you have exceeded the current inventory level and will adjust your order to what we have on hand. These LEDs are top of the line as it relates to RV lighting; no cheap components with these lights, just a cheap price. We will keep this as a newsletter-only special until April 15th, so use the code LED50 when you checkout to receive the discount.

In addition, our Rand McNally GPS units are the lowest price of the year! We won't be putting these prices online - you will need to enter the code APRILGPS to get them. Don't miss out if you are in the market for an GPS! We are also reducing the prices on the 2 dashboard mounts we have, but these prices will be reflected online. If you are purchasing a GPS, be sure to pick one up this month!

Rand McNally 7730 GPS
List Price $349 NOW $259

Rand McNally RV Tablet 80
List Price $499 NOW $459

GPS Dash Mounts (Circular and Rectangular)
List Price $29.99 NOW $19.99

ALL LED Products and Motion Lights
(excluding Fluorescent and Switches)
50% off Listed Price

---

Workamper News is a proud affiliate of TechnoRV. www.TechnoRV.com has been reviewing and providing helpful gadgets and tools for RVers for many years. Not only do they offer great prices on tested products, but they provide Learning Series emails to teach you how to use it once you've bought it! Eric & Tami are dedicated to their customers and are quick to help with any questions. As full-time RVers, they travel to many rallies and shows to help RVers better understand connecting to WiFi, using their GPS, etc. - to help make our RVing life easier. Come meet them at the 2016 Workamper Rendezvous!

January 16, 2023
Listen in to The Workamper Show – a free, weekly podcast...
Read more


Workamping Q&A #10 - Your Questions Answered
October 26, 2022

July 13, 2014
During the 7 years we Workamped, Workamper News was our Bible. We were...
Read more