May/June Issue Available Online
Posted by

214397

on 04/19/2019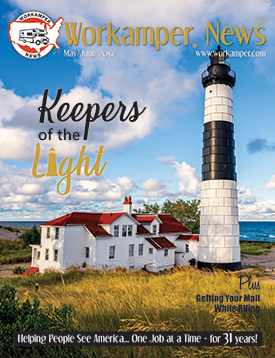 The May/June Issue of Workamper News Magazine is now available online!
The issue has also been shipped out all across the U.S. and Canada to Diamond & Platinum members.
To view the issue, just login to www.Workamper.com and click on the Online Magazine button on your Dashboard.
Each issue of our bi-monthly magazine is full of Help Wanted Ads from over a hundred different Workamping Employers hiring for this summer, fall, winter, and spring! Take some time to browse through the pages and line up Workamping jobs for the upcoming seasons.
Featuring Lighthouse Keeper Programs!
This issue features several Lighthouse Keeper Programs in the midwestern state of Michigan, which borders four of the five Great Lakes! While the number of actual remaining lighthouses is unclear, it is estimated that there are fewer than 200 remaining and less than a dozen with Lighthouse Keeper positions of any kind. If taking a position as a Keeper is something you've always dreamed of, jump at the chance to participate in one of the following programs as space is extremely limited.
These Workamper programs feature positions running a few weeks or few months, with RV sites or on-site housing options at 5 different organizations. The feature article will give you a taste of what these programs have to offer.
Login to Workamper.com as a member and view the current issue by clicking here!
June 2, 2023
Calling All Workampers!
Introducing the newest Featured...
Read more


How to use Workamper.com
June 7, 2021
Learn how to get the most out of your membership with this in-depth...
Read more
September 27, 2022
We have been using the Workamper Diamond membership level for over a...
Read more