Free webinar and product giveaway provided by TechnoRV!
Posted by

120632

on 06/17/2020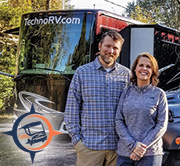 Free Webinar and Giveaway from TechnoRV!
The awesome team at TechnoRV (www.technorv.com) will be sharing some great info during a free webinar -
Best Practices for Your RV Tires
Thursday, June 18 at 4pm CT
Recording Available in our Media Library for Members
As fulltime RVers and owners of TechnoRV, Eric and Tami Johnson have heard hundreds of stories from RVers relating to tire failure.
Some of the tire failure issues an RVer may encounter can be a minor nuisance and some failure can be catastrophic. The problem is tire failure can occur without even knowing it. Whether you are in a larger motorhome or a smaller towable (or anything in between), tire failure is an issue that can affect all RVers.
RV tires need frequent attention, especially when you are traveling more often. RV owners need to understand proper inflation, tire aging issue, and the limitations of your tires.
Tire pressure issues and heat issues around the tire are the leading indicators of future tire failure. We'll share with you the #1 way to help you avoid issues and give you the time to get off the road and check out the problem.
Can't attend live? No worries. Register for the webinar and you will receive a link to the recording after the webinar takes place.

Plus - Enter to Win in the Giveaway
Thanks to TechnoRV, one lucky Workamper News member will win a TST Tire Pressure Monitoring System!
Enter here for your chance to win. The drawing for the winner will take place on June 22nd.
One entry per person. You do not have to register for the webinar or attend it to enter the giveaway.

December 1, 2023
New Version of Workamper.com is getting closer to launch!
...
Read more


Delaware North Yellowstone General Stores Summer 2024
November 16, 2023

September 9, 2019
It is getting more real every day! Today I picked up my used travel...
Read more