2018 Rendezvous Ticket - Front Row Seating Option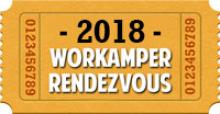 2018 Workamper Rendezvous Admission Ticket - Front Row Seating Option
October 15-19, 2018 | Heber Springs, Arkansas
Don't miss the Workamping and RV Lifestyle event of the year! Join hundreds of fellow Workampers from around the country as they gather to learn, network and implement new ideas that will make their Workamping more successful. Learn more on the Rendezvous website.
Be in the front of all the action this year at the Workamper Rendezvous! This year, folks who wish to sit in the front row and be as close as possible to the speakers, their presentations and have an up close and personal view of all the awesome fun we have planned can purchase those seats specifically! Why sit in the back, if the front is where you belong?
Regular Price $247 per person
*Seats are limited.


Delaware North at Yellowstone: March 2018

Once again, we would like to thank you ALL for being there for us RV...
Read more