Workamping Q&A Webinar - July
Wednesday, July 26 2023 - 11:00 am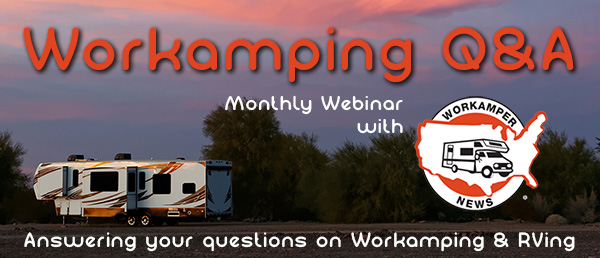 Have questions about Workamping and RVing? Attend this free webinar each month to get your questions answered by the creators and leaders of the Workamping industry - Workamper News [Workamper.com]. You can also learn the answers to questions you haven't even thought of yet!
If you have questions, you can enter them when you register or you can email your question(s) to [email protected].
START TIME: 9AM PT/10AM MT/11AM CT/12PM ET
Can't attend live? No worries. The webinar will be recorded. If you register for the webinar, you will be sent an email AFTER the webinar takes place with a link to the recording. Each recorded webinar will also be available in the Media Library at Workamper.com as well as the Workamper News YouTube Channel.
To register or to learn more about this event:

Frequently Asked Questions about Workamping.
Whether you're...
Read more


Learn how to get the most out of your membership with this in-depth...
Read more
Judy and I are about to leave Arrowhead Point in Buena Vista, CO. We...
Read more