You Have Qs. We Have The As.
Posted by

120632

on 09/06/2023
Frequently Asked Questions about Workamping.
Whether you're a Workamper considering embarking on this lifestyle or a business operator seeking more help to keep business running as usual, we've got you covered!
On our Workamper FAQ page, we cover some basics to specifics like:
What kind of positions are available?
How many hours should a Workamper work for a site?
What kind of RV do I need?
When a Workamper is given an RV site as compensation, is the value of the site taxable?
How do I find info on a specific Employer?
Will it be hard to find a job with no experience?
Can I Workamp with my family?
In the Employer FAQ, you'll find answers to:
What should I include in my ad text?
How often or when should I advertise?
How many hours can I ask for?
Do I provide a W-2 or a 1099?
What is a work agreement and why should I provide one?
What do I do once I've hired a Workamper?
Can Workampers file unemployment?
And that is just the tip of the iceberg! Wanting to learn even more?
Members can head to our Media Library full of videos. Listen to videos on specific topics - like interviewing and resumes - or go through many of our recorded Workamping Q&A sessions. In the description of each video, you'll see what questions we covered in that session so you can more quickly find what most interests you.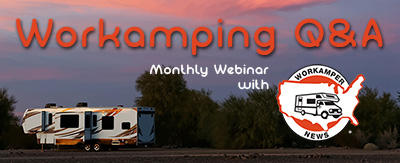 Still have unanswered questions? Join us live for one our free Workamping Q&A webinar sessions. We host these monthly and you can register here. Please register to attend the webinar live or to receive a link to the video recording after the webinar takes place. You can submit any questions you have when you register!
And as always, feel free to reach out to our support team! That's what we're here for! [email protected] or 800-446-5627 (M-F, 8a-4:30pCT)

September 6, 2023
Frequently Asked Questions about Workamping.
Whether you're...
Read more


Workamping Q&A #14 - Your Questions Answered
February 23, 2023

September 9, 2019
Thank you AGAIN, to Workamper News, for our first campground host job...
Read more