November Specials For Workampers & Employers
Posted by

120632

on 11/18/2019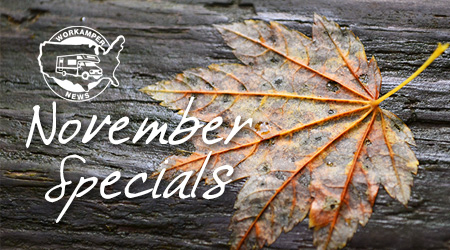 For Workampers
We are so grateful that, as a company, we have the privilege to help each one of you make your dreams of traveling a reality! We are blessed to be able to offer hope for something, that to some, may seem an impossible dream.
Please enjoy our Thanksgiving gift to you. When you join, upgrade or renew your Workamper News membership*, we will add 6 extra months to your membership.
Enter the promo code: THANKFUL19 when you join, upgrade or renew.
(You will not see the bonus months applied immediately; please allow our staff a few extra days to manually adjust your expiration date.)
We want to help as many people as possible live the dream of traveling America.
Helping to make a difference: The RV Disaster Corps provides much needed help and relief to the communities affected by natural disasters after the hype dies down and the media moves on. They mobilize fellow RVers who volunteer their service, to do nothing more than to help when and where needed.
Workamper News will donate $2 from every membership sale using the promo code THANKFUL19 to the RV Disaster Corps.
Help us raise some much-needed funds for the RV Disaster Corps by upgrading or renewing your membership with the Promo Code: THANKFUL19 by November 30, 2019.
Join, Upgrade or Renew your membership here to receive 6 extra months!
---
For Employers
If you are on the hunt to fill your open Workamper positions, we wanted to let you know we are offering a special bonus right now!

When you upgrade to or renew with Employer Gold membership, we will give you a 50-word plain text help wanted ad in the Jan/Feb 2020 issue of Workamper News magazine for FREE!**

Here's how you can receive this special bonus:

Option 1: Login to www.workamper.com using the link in the top right. Click on the Upgrade/Renew button on your Dashboard. Select the one year Gold membership and enter GOLDAD in the Promo Code box. Once you have your help wanted ad written up, please email that to [email protected] by 12pm CT on 12/10/19.

Option 2: If you already have your help wanted ad text ready to go, you can login to www.workamper.com and click on the Submit an Ad button. In the membership step of the ad submit process, please select the Gold membership. Then in the Create Ad step, please type GOLDAD into the Notes & Comments field. Be sure to enter in your ad text, state location, add a logo (also free!) if you like, and complete the submission process.

The ad submit process does not automatically charge your credit card or create an invoice; we handle all of the ad requests manually so we will apply the bonus accordingly.

If you would like to have over 50 words in your ad text, you definitely can - we will be sure to apply the $25 value of the free ad to your total ad cost.

This special bonus is only available until December 10th! Please upgrade/renew and get your ad in soon.
---
*Thankful19 promotion applies to a one year Gold, Diamond or Platinum Workamper membership purchased between 11/11/19 and 11/30/19 and submitted with the Thankful19 promo code.
**Free ad applies to a magazine ad in the Jan/Feb 2020 issue only. Bonus only available to Employer members who renew or upgrade their membership to Gold with promo code between 11/13/19 and 12/10/19.

November 8, 2023
Receive 6 Bonus Months When You Join - Renew/Extend - Upgrade Your...
Read more


Workamping Q&A #18 - Your Questions Answered
July 26, 2023

December 19, 2019
Planned, dreamed, researched and window-shopped for 3 years. Purchased...
Read more