Nov/Dec Magazine Features Workampers with Small Businesses
Posted by

120632

on 10/25/2019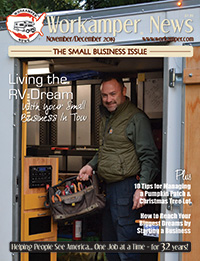 Read the Nov/Dec issue of Workamper News Magazine Online Now!

Our theme this issue: Small Business!

The entrepreneurial spirit is alive and well in America, and it continues to fuel this country. Having a small business is a great way for Workampers to earn income and receive some tax benefits, all while continuing to live their travel dreams.

This issue includes...
Help Wanted Ads for now and future seasons
Living the RV Dream with Your Small Business in Tow
How to Reach Your Biggest Dreams & Goals by Starting a Business
Training for a Tech Career
10 Tips & Interview Questions for Managing a Pumpkin Patch & Christmas Tree Lot
Starting a Business is the First Step to Building Wealth
The New Zig Ziglar Column
and more!
Diamond & Platinum members - you have access to this new issue now. Intro & Gold members, y'all can now view the Sept/Oct issue; your access to the Nov/Dec issue will begin in December (after we publish Jan/Feb).
Login to www.workamper.com and click on the Online Magazine button on your Dashboard, or click here to go straight to the magazine page if you're already logged in.
To upgrade your membership level for access to more tools (and immediate access to the Nov/Dec issue), login to www.workamper.com and you'll find an Upgrade/Renew button on your Dashboard.

January 16, 2023
Listen in to The Workamper Show – a free, weekly podcast...
Read more


Michigan Express Sugar Beet Harvest Jobinar
March 18, 2022
October 11, 2022
Thank you for doing such a wonderful job of helping most of us find,...
Read more