More Helpful Videos Now in Media Library
Posted by

120632

on 05/11/2023
Detailed information on many aspects of the Workamping and RVing lifestyle to help you be successful - shared by our passionate experts!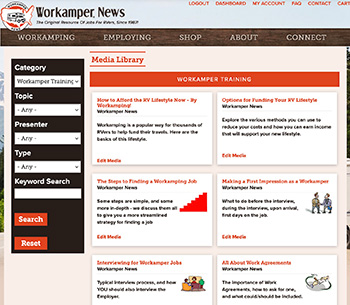 Our videos are 30-90 min in length. We don't scrimp! We want to make sure we are thoroughly covering the topic so you aren't left with just more questions.
Watch videos on:
choosing the right RV
timeline for beginning RVing
do you keep your house or not
what is, and how to select, a domicile
options for funding your lifestyle
operating a business from the road
Workamping opportunities around the U.S.
budgeting
health insurance options for RVers
why rent before you buy
RV electrical systems
getting connected to the right resources in the RV community
getting your mail, vehicle registration, voting
technology for RVers
how to find a Workamping job
personal safety on the road
interviews with Workampers
RVing to Alaksa
best apps for trip routing
how to find the best RV parks/campgrounds
interviewing for Workamping jobs
boondocking
solo RVing
creating a Workamper resume
making a good first impression with Employers
and more!
Available to Workamper Gold, Diamond and Platinum members. [Join/Upgrade/Renew here.]
Login to Workamper.com and click on the Media Library button on the Dashboard. Scroll down to the General RVing and Workamper Training categories. There are 52 videos in these categories alone!
Members can also visit My University Courses section for more training and resources.
When we weren't able to host our annual Workamper Rendezvous live event, we created an online, live-webinar series called the Dreamer's Journey. We recorded all of those webinars and had them available on a separate course website for awhile. We are closing that separate websit down and have moved that content here to Workamper.com for Workamper Diamond & Platinum members. Enjoy!

September 6, 2023
Frequently Asked Questions about Workamping.
Whether you're...
Read more


How to use Workamper.com
June 7, 2021
Learn how to get the most out of your membership with this in-depth...
Read more
January 13, 2020
Thank you for all the information and resources you provide. My husband...
Read more