Listen in to the Podcast on Workamping
Posted by

120632

on 01/16/2023
Listen in to The Workamper Show – a free, weekly podcast devoted to helping you discover how to finance your RV lifestyle!
The Workamper Show podcast strives to build your dream and success of living the RV & Workamping / Workcamping lifestyle through inspiration, motivation, and education. It also opens the door to many different Workamping jobs available to people living in an RV part-time or full-time who desire to work while camping.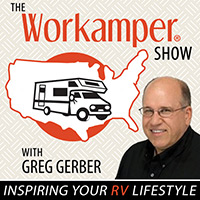 Each one of our episodes will introduce you to people who are already living the RV lifestyle, or to businesses that provide opportunities for Workampers.
Produced and hosted by Greg Gerber, this show will entertain and educate you with the stories of people in the RV & Workamping community.
Join us as we share in the joys (and sometimes frustrations) of RV & Workamping life, together!
You can listen to each episode here on our website - www.WorkamperShow.com - via the Episodes page. Or you can find us in many of the popular podcast streaming apps –
Our podcast was started in September 2019, and as of this writing there are 207 episodes.
We are always looking for Workampers interested in sharing their story and Employers wanting to talk about their Workamper program. If you are interested in being on an upcoming episode of The Workamper Show, please schedule an interview with Greg here.

November 8, 2023
Receive 6 Bonus Months When You Join - Renew/Extend - Upgrade Your...
Read more


Express Employment Hiring for Digi-Key Jobinar
March 20, 2023

January 14, 2021
I was brand new and a solo when I joined Workamper News. They...
Read more