A Day in the Life of a Campground Workamper
Posted by

120632

on 02/24/2021
Read the Mar/Apr 2021 issue of Workamper News Magazine Online Now!
Featured Article: Utah: A Vast Wonderland of Beauty & Recreation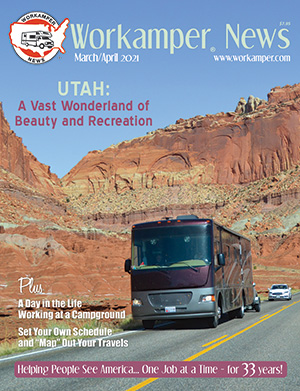 There are few states with as much beauty packed into its borders as Utah. It is home to five national parks, seven national monuments and 14 national historic landmarks. Not only does that offer a plethora of Workamping opportunities, but it also serves as an enticement to spend a few weeks in the state enroute to your next assignment.
This issue also includes...
Help Wanted Ads for now and future seasons
A Day in the Life: Working at a Campground
Set Your Own Schedule and "Map" Out Your Travels
The Sacrificing RV Anode Rod
Leave Ordinary Days Behind - Start Your Path to RVing with The Dreamer's Journey
Media Library = Answers to Your Questions
Work Wanted Ads to help Employers find their staff
and more!
Click here to visit our Online Magazine Archive to view the Mar/Apr issue. Note: You will need to be logged in at Workamper.com to view it, as it is a benefit of your Workamper membership. If you're not logged in yet, click here.
Diamond & Platinum members - you have access to this new issue now. Intro & Gold members, y'all can now view the Jan/Feb issue; your access to the Mar/Apr issue will begin in April (after we publish May/June).
Login to www.workamper.com and click on the Online Magazine button on your Dashboard.
To upgrade your membership level for access to more tools (and immediate access to the new issue), click on the Upgrade/Renew button on your Dashboard.

January 16, 2023
Listen in to The Workamper Show – a free, weekly podcast...
Read more


Workamping Q&A #11 - Your Questions Answered
December 29, 2022

June 22, 2017
What an excellent way for people to travel and is a second career for...
Read more