Colonial Coast, Travel Centers and a Lighthouse - See the New Issue
Posted by

120632

on 06/22/2021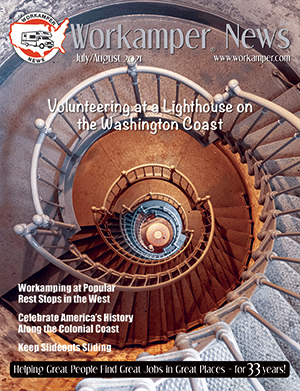 Read the Jul/Aug 2021 issue of Workamper News Magazine Online Now!
Featured Article: Volunteering at a Lighthouse on the Washington Coast
From Henley's Happy Trails: Last spring, we were looking for a winter/spring job. Natalie came across an ad for volunteering at a lighthouse on the Washington coast while looking through the Hotline Jobs that come right to our email inbox. It required working 20 to 24 hours a week at the lighthouse or maritime museum in exchange for a full hookup spot right next to the lighthouse itself.
This issue also includes...
Help Wanted Ads for now and future seasons
Spend a Season Serving Travelers at Popular Rest Stops in the West
Celebrate America's History Along the Colonial Coast
Keep Slideouts Sliding
12 Steps to Finding a Workamping Job
It's Your Time - Start Your Path to RVing with The Dreamer's Journey
Workamper Survey 2021 results
Member Map - Find Friends, Investigate Places
Work Wanted Ads to help Employers find their staff
A FAQ and tips for Employers
and more!
Click here to visit our Online Magazine Archive to view the Jul/Aug issue. Note: You will need to be logged in at Workamper.com to view it, as it is a benefit of your Workamper membership. If you're not logged in yet, click here.
Diamond & Platinum members - you have access to this new issue now. Intro & Gold members, y'all can now view the May/June issue; your access to the Jul/Aug issue will begin in August (after we publish Sept/Oct).
Login to www.workamper.com and click on the Online Magazine button on your Dashboard.
To upgrade your membership level for access to more tools (and immediate access to the new issue), click on the Upgrade/Renew button on your Dashboard.

December 1, 2023
New Version of Workamper.com is getting closer to launch!
...
Read more


Workamping Q&A #18 - Your Questions Answered
July 26, 2023
May 5, 2017
I am 56 and hubby is 63. We sold our home and gave away most of our...
Read more