Change is Near
Posted by

120632

on 09/14/2022
If you've been with us for awhile, you've probably seen our announcements about undertaking a complete reprogramming of our front-end website and back-end systems. We are completely rebuilding it all from the ground up to be better, faster, and more robust in order to help deliver the results that our members desire.
We know change can be tough, but we are really excited about what our programming team has accomplished so far, and the new features we are bringing to you are going to remind you why membership is such an easy investment. Our current timeline should have it launching in 2023, so keep an eye out for updates as we get closer!
Discontinuing the Magazine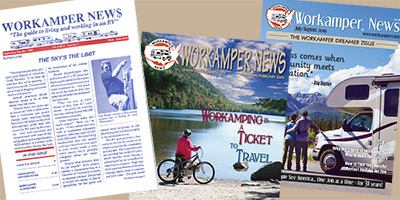 Yes, change is definately upon us. Workamper News began it's life as a printed publication over 35 years ago and we've produced a new issue every two months since then. Sadly, the next issue, Nov/Dec 2022, will be our last.
If you are someone who actually does read our magazine, this message will be an especially sad one for you. Unfortunately, dear reader, you are in the minority.
The number of physical copies we mail continues to decline, and the online readership is not faring much better. Despite our best efforts, the vast majority of our members do not want the mailed magazine and do not want to spend time reading the online version either. The bottom line is that if we are not getting enough Workampers to look at the magazine, the value to Employer members to advertise in it is simply not there anymore.
And, of course, like everything else lately - the cost to print the magazine went up 45% this year.
With the advent of the internet and the creation of our online Hotline Jobs system 26 years ago now, we have had two main avenues for viewing job listings - the Hotline and the Magazine. It made sense for many years - Employers would advertise future season jobs in the magazine and the Hotline was there for Employers with immediate hiring needs. Over the years though, most Employer members have gravitated to just using the Hotline no matter when their job starts.
Many of our Workamper members don't realize we have a magazine, or that it has job listings in it, or that the job listings are different from what is going out via the Hotline. It's finally time to trim that down to make it easier for our members to look at all of the job listings in one convenient and powerful online search.
On the new version of the website there will be ONE, very powerful job listings page. The other tools that we have to aid the Workamper in researching an Employer will be better integrated. We will continue sending the Hotline Jobs email and the Job Alert emails. And, an online magazine archive of past issues will still be available as well.
Each issue of the magazine has multiple articles on the RV and Workamping lifestyle, but because we have them structured into individual issues, there is not a way to easily search to find all articles about "writing a resume" for example. In the new knowledge base on the new website, there will be categories and search options to find the answers to your questions. We have 30+ years of content for our members - with much more to come - and the new website will allow it to be better organized and more accessible.
Recent Improvements
Last spring, we invested in adding more features to the Hotline ad system for our members. On the Hotline Jobs website page, Workampers now have the most search options available anywhere to help them narrow down the job listings to a closer match! Plus, the Hotline Jobs page has all new ads posted within the last 14 days so there is no guessing whether the ad is current or not.
We now ask every Employer when submitting a Hotline ad if they consider solos, the start month(s) of the job, compensation, and if an RV site or housing is provided. Each Hotline ad has the answers to those questions displayed with the ad text. Since an Employer is required to provide this info, when doing a search on the Hotline Jobs page, you can be sure that all opportunities that match your criteria will be displayed. This will save you a lot of time during your next job search!
We know that not all members will be head-over-heels about the upcoming changes, but please understand that everything we do is based on continuing to provide the highest-quality service for our members and community.

December 1, 2023
New Version of Workamper.com is getting closer to launch!
...
Read more


Delaware North Yellowstone General Stores Summer 2024
November 16, 2023

November 3, 2021
Before I found y'all I knew NOTHING about RVs or Workamping. I...
Read more