ANNOUNCEMENT: New Commercial Advertisers
Posted by

214397

on 02/16/2017
Workamper News is expanding the ranks once again, to include two teams of Commercial Advertisers. We value the products and services that fit the Workamping and RVing lifestyle in general, and aim to align ourselves with likeminded businesses to deliver these valuable resources to our members.
Commercial Advertising will now be available on our website in the form of Banners & Box Ads as well as in the form of print ads in the bi-monthly magazine. If your company is interested in placing a commercial ad either online or in print, please contact either of the two teams listed below for pricing and special Commercial Ad packages.
Commercial Advertisers:
Howard & Pam Jaros- [email protected]
Howard & Pam joined the team in July 2016, after being Workamper members since 2009. This dynamic duo is spear-heading Workamper News' efforts to connect Workampers with great RV products, services, events, manufacturers and more! Howard & Pam are happy to speak with any business that is interested in advertising (other than help wanted) Outside the office: These two are fulltime RVers so their office is their RV! They have logged over 75,000 miles in both rented and owned RVs, traveling with their Corgi dog.
---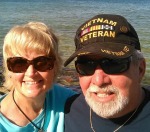 Scott & Deb Bruce- [email protected]
Scott & Deb have been marketing and advertising professionals for over 30 years, and have worked with national businesses and national marketing firms (ie: magazine advertising, television, radio, newspaper, advertising agencies, web development, chambers of commerce, tourism organizations, and hospitality businesses.) They recently joined the team at Workamper News in February 2017, to put their years of marketing and advertising sales to good use, while traveling full-time in their motorhome seeking many adventures throughout the country. They are happy to speak with all business types about possible campaigns and welcome the opportunity to connect in person, when they're in your town.

September 6, 2023
Frequently Asked Questions about Workamping.
Whether you're...
Read more


Express Sugar Beet Harvest Jobinar
March 8, 2023

January 18, 2021
I have been dreaming of living full-time in an RV, traveling the...
Read more