Frugal RVing or Pinching Pennies Without Getting Bruised and Other Advice from the Road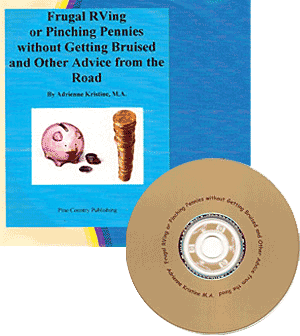 Everyone who reads this book, whether a potential or experienced RVer, will find ways to save space, weight, time, the environment and money.
If RVing is in your future, you may be able to travel sooner by implementing these ideas. Included are several checklists since forgotten items are expensive to replace. Bonus - print and laminate the final two pages to create a reversible checklist that can be used again and again with a dry-erase marker. Adrienne has been an RVer off and on since 1980 and has owned and driven everything from a Class B van conversion to a 35' fifth wheel. She has been a full-time solo RVing woman for many years.
Available only on CD (not audio). Written by Adrienne Kristine, M.A.


Delaware North at Yellowstone: April 2018

I'm so pleased with the amount of information you share so freely.  It...
Read more