2018 Workamper Rendezvous Boot Camp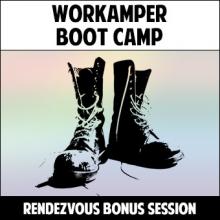 2018 Workamper Rendezvous Boot Camp
Presented by Steve Anderson, President of Workamper News
Are you new to the world of Workamping?  Do you want to learn what you need to do to lay the groundwork for a successful Workamping future?
Join us for this special FREE bonus day session on October 15, 2018 (the day before the main Rendezvous event starts).
As a new recruit into the Workamper Boot Camp, you will have your eyes opened to the possibilities of the Workamping lifestyle and what it will mean to your future. You will experience a regimen of who, what, why, and how - along with development of the successful Workamper mindset. We will discuss basic newbie RVer questions like, what rig to buy, where to travel, gaining the most enjoyment from the RVing lifestyle, when to get started, and more!
Attending the Workamper Boot Camp will hone your tactical decision making skills and will have a definite impact on your future! In addition to the knowledge you will gain, you will also be trained in the tactical use of Workamper.com, your weapons arsenal. Completion of your training will take your Workamping lifestyle to a new level, providing you with a leg-up on any untrained recruit you might encounter in the field. You will be given the tools you need to be successful in the world of Workamping and beyond! 
Monday, October 15, 2018
FREE EVENT
Amazon CamperForce Jobinar: June 13th

What an excellent way for people to travel and is a second career for...
Read more