2018 Rendezvous Bonus Session - Smartphone Photography and more Workshop - Geeks On Tour Member Option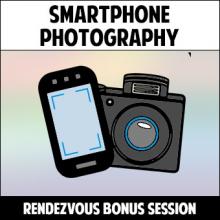 Bonus Day Session at 2018 Rendezvous
Chris & Jim Gould, Geeks on Tour
This discounted price option is for members of Geeks on Tour only. If you are not a member of Geeks on Tour, please use the NON-member option here.
For people with iPhones/iPads or Android phones and tablets – from beginners to advanced, everyone learns something in this class. If you've never taken a selfie, or figured out how turn your flash on or off – not to worry, that's where we'll start. The class is hands on. You need to bring your phone or tablet as we will have you exploring and experimenting with all its camera-related features. Like learning to swim by jumping into the deep end, you will have assignments and you will need to discover the way your device works to accomplish them.
In your pocket you have one of the most sophisticated cameras ever developed, it can do things that Ansel Adams never even dreamed of! Just a tap on the HDR button produces results that took hours of preparation in Ansel's day. Don't know what HDR is? We'll teach you!. Want to show that masterpiece to friends and family around the world? It's a simple click on the Share button.
Automatically backup all your pictures for safekeeping by using the free Google Photos app. Never worry about losing your phone again. The camera in your phone also does more than take photographs – it can file receipts and save them for Tax day, it can scan QR codes, and deposit checks. That's why we call the class "and More" rather than just photography – we will show you some of these other uses.
Geeks on Tour will be presenting 2 (identical) sessions. Space is limited to the first 20 people in each session. Pre-registration advised.
Time TBD – October 19, 2018
$30/person

The New Issue of Workamper Magazine is now available online....
Read more
RVing Lifestyle Ambassador Program

During the 7 years we Workamped, Workamper News was our Bible. We were...
Read more