2018 Rendezvous Bonus Session - Dreamer Discovery Day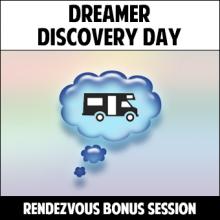 Bonus Day Session at 2018 Rendezvous
Terry Cooper - The Texas RV Professor
Come spend a full day in this personal workshop where you will jumpstart your knowledge as to which RV is best for you and your needs.
Your RV will be one of the largest financial investments you will make as you step into the exciting lifestyle of Workamping. While it is perfectly normal to have more questions than answers, fear of the unknown can cause you to second guess your decision.
Topics that will be discussed: The types of RVs best for Workamping – Motorized vs Towable, New vs Used. Which floor plans work well for full timing and how do your appliances work. Why it is important to know the difference between 30 amp and 50 amp shore power. Then top off the day with a Tour of Homes with Evada and Terry Cooper as they give you a personal tour of their home on wheels.
Space is limited, so reserve your seat today for this fact filled workshop that will help you discover the RV that is right for you.
9 a.m. to 4:15 p.m. Friday, October 19, 2018
$99/person – 25% off for partner
Hear It Right From The Horses Mouth… 

Tom and I are now three weeks into our fulltime RV life and it is great...
Read more