2018 Rendezvous Bonus Session - Ambassador Training Day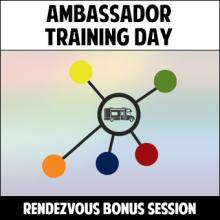 Bonus Day Session at 2018 Rendezvous
Steve Anderson & Dana Nicholson - Workamper News / RVing Network
The goal of this training is to provide all our Ambassadors with a level of confidence to meet the potential customer and make a successful presentation.
We will review marketing tools and resources that you will use to reach your audience and close the sale.
Presentation suggestions and demonstrations along with role play will help embed these skills for later use.
We will have met our goal when you have your elevator speech down and can easily carry on a conversation that can turn into a sales opportunity.
Join us for this FREE training session, available to all current RVing Lifestyle Ambassadors, and take your level of confidence to new heights.
You will be glad you did.
See you at the training.
9 a.m to 12 p.m. - Friday October 19, 2018
FREE

The New Issue of Workamper Magazine is now available online....
Read more
The knowledgeable folks from Explorer RV Insurance Agency give you the...
Read more
As a former business owner, I know how quick people are to complain,...
Read more