VOLUNTEERING_____________________________
Why Volunteer?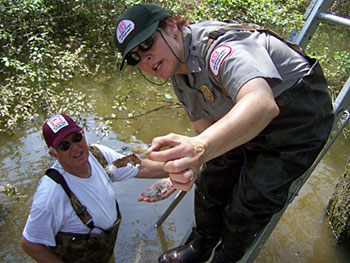 Volunteering is a great way for beginning Workampers to "test the waters" and for experienced Workampers to have more flexibility than paid positions require. The hours and length of stay are usually for shorter periods.
Volunteers serve without pay, but are often provided with a free RV campsite with hookups. Training, supervision, tools and supplies are provided. Volunteers receive the same benefits and protection as federal employees under the Federal Employees Compensation Act and the Federal Tort Claims Act.
What do volunteers say after trying it? They enjoy gaining skills, working outdoors at beautiful lakes, meeting new people, making a difference, and having fun! The experience, training and confidence acquired while working as a volunteer can be invaluable. Good Workamping references can make the difference when applying for other Workamper jobs.
---
Where can I get more information about the U.S. Army Corps of Engineers Volunteer program?
The US Army Corps of Engineers has a national information phone line and email address for people who are interested in volunteering their time at Corps lakes and projects. Potential volunteers can also find volunteeer oppotunities posted on www.volunteer.gov.
For more info: 1-800-VOL-TEER (800-865-8337)
or email [email protected].
To apply for volunteer opportunities at USACE lakes: www.volunteer.gov.
---
What can I do as a Corps Volunteer?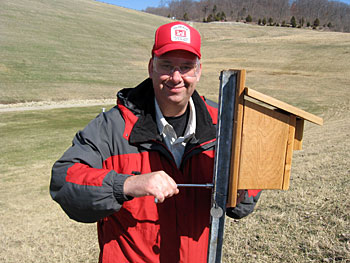 The Corps of Engineers offers many volunteer opportunities in recreation and natural resources management on its nearly 12 million acres of land and water.
As a volunteer, you can:
Serve as a Park or Campground Host
Staff a Visitor Center
Maintain park trails and facilities
Lead tours of the lock, dam or power plant
Present educational programs
Clean shorelines
Restore fish and wildlife habitat
And more!
Park Hosts and Campground Hosts are popular positions for Workampers. The duties vary, but may include greeting the public, providing information, answering questions, registering campers, helping with special events, inspecting facilities, providing surveillance, opening and closing the gate, and maintaining quiet hours. Some locations may include fee collection, using a computer, or maintenance work.
---
What should I consider before volunteering?
When considering volunteer positions, remember that a free RV campsite with free utilities is estimated to be worth from $200 to $400 per month, depending on the amenities and location. Benefits vary from location to location. Prospective volunteers should fully investigate the duties, requirements, and benefits of a specific position before submitting an application.
---
How do I apply for Volunteer Positions?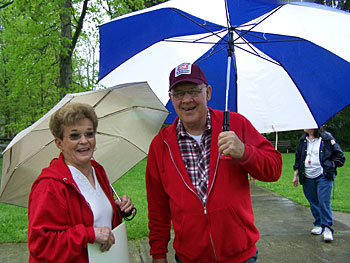 It's easy to apply for volunteer positions!
Contact the volunteer information phone line at 1-800-865-8337 or go online to www.volunteer.gov
Callers should be ready to provide information about the type of work and area they may want to volunteer. The Corps will provide you with information that includes the coordinator's name for the location that you would like to volunteer.
Call the coordinator (it's usually a Park Ranger who will welcome your call!) to discuss the current volunteer opportunities. In addition, the Corps will give your name, address, phone number and work interest to the Park Rangers, so you may receive a call from them to see if you're interested in coming to their lake.
---
For Current Volunteer Opportunities
Learn more about becoming a Corps of Engineers Volunteer today!
Apply online here or phone 800-VOL-TEER (800-865-8337)
---
PARK CONTRACTS___________________________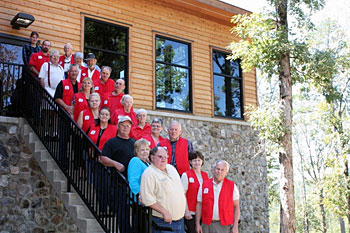 Park Attendant Contracts
The U.S. Army Corps of Engineers utilizes independent contractors to perform much of the day-to-day operation & maintenance of their more than 4000 parks. These parks are managed by more than 400 field offices (also known as projects.)
A few of these projects lump all of their operation and maintenance into one package called an "umbrella contract." Most projects, however, contract for each individual function separately, i.e. mowing, cleanup, major repairs, major maintenance, and park (or gate) attendant services.
---
What Is Involved in a Park Attendant Contract?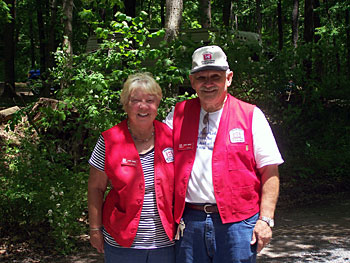 While there are exceptions, most Corps Park Attendant contracts require a couple, (two adults with no children under age 16), to live in the recreation area and perform the duties to operate a campground or day use recreation area.
Work shifts are generally 8 hours a day, 5 days a week and may include evening and/or nighttime hours, split shifts, and will almost always include weekends and holidays.
Most contracts are from 4-7 months, beginning in April or May, and ending in September of October.
An RV site with hookups is provided adjacent to the entrance station or gatehouse.
Duties vary, but may include greeting visitors, registering campers, collecting fees, maintaining a status board of occupied sites, providing information, answering questions, using a computer, inspecting the area to assure proper use of facilities, providing surveillance, opening and closing the gate, maintaining quiet hours, and minor housekeeping of the entrance station.
Park Attendants must use the special computer software and coordinate the implementation of Recreation.gov (a nationwide reservation system used by the Corps and Forest Service) for campgrounds that accept reservations.
Some contracts may also require some grounds maintenance. Since the size and popularity of Corps parks varies greatly, the pace of the work can also vary. The duties and pace of the work should be thoroughly understood prior to preparing a bid on a particular contract. If at all possible, visit the parks you are interested in during the busy season.
---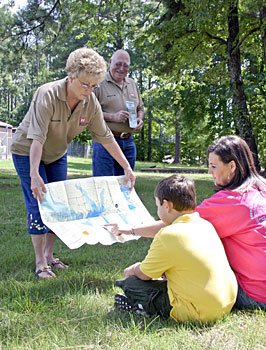 How Do I Place a Contract Bid?
Contracts are awarded to the lowest "qualified" bidder. Bidding procedures, deadlines, & qualifications vary from district to district and project to project.
If possible, we recommend visiting the park manager at the project(s) where you would like to work. You should ask about qualifications, duties, work schedules, etc.
If you decide you want to bid, ask for a copy of the contract specifications (sometimes called "scope of work") and ask to be placed on the mailing list to receive an "invitation for bids" or "bid package."
In some cases, the park manager will refer you to the Contracts Branch or Purchasing Section in their District Office.
Due to the variations in these contracts, we strongly recommend that you thoroughly understand the requirements before you bid on any contract. Bids are taken on a "per day," "per month," or "per season" basis.
Complete bidding instructions are included in each bid package.
---
How Much Should I Bid?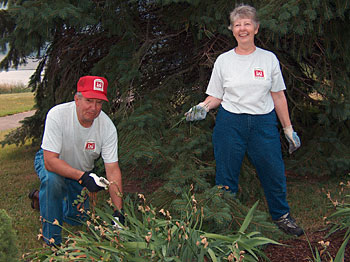 When deciding how much to bid, it is recommended that you simply establish an hourly wage that you can be happy with and then multiply that wage by the number of hours in the contract.
Please consider that some of the people you may be bidding against may be dependent on this income.
If you don't need extra income, but want to be of service please consider a volunteer position.
Most volunteer positions offer a free site with hookups plus shorter work periods.
More details on volunteer opportunities are provided at the top of the page.
---
Other things to consider when preparing your bid:
Some of the contracts, especially those with maintenance, can be physically demanding.
At some projects, attendants share the operation of a gatehouse with another couple.
Some contracts require longer work weeks and/or longer hours.
Most contracts have renewal options for a 2nd and/or 3rd season (provided both parties are agreeable).
---
Currently Available Corps Contracts
Opportunities with the US Army Corps of Engineers are posted throughout the year via Workamper News bi-monthly magazine and daily Hotline email. Each year, the Sept/Oct issue of the magazine features some USACE Workampers, and includes many volunteer and contract positions organized in one place!
---
What others are saying...
A chance trade-in for a motorhome put a new spin on retirement for Arkansas residents, Richard and Pauline Anderson. After placing the family's convenience store and boat storage business in the capable hands of their son Greg, an older Bounder turned up in a transaction. Greg insisted that his parents take the rig on an extended trip.
On a lark, the Andersons took off and returned home two months later. "We were bitten with RVing," Pauline states
After touring Northwestern states and British Columbia, they agreed they could go for a lifestyle on the road. But only on the fringes of their collective acquaintances did the Arkansas couple recall people who lived full-time in an RV. For certain, they knew no Workampers.
However, getting to the end of their active and varied working careers, Pauline had pondered, What are we going to do for the rest of our lives?
Click Here to keep reading and learn about Richard and Pauline Anderson's experience as Corps of Engineers Contract Gate Attendants.
---