RV Community & the Coronavirus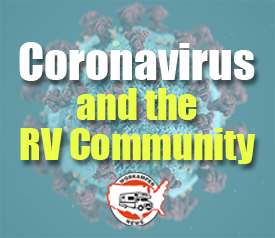 Updated 6/7/2020
We are living in a challenging time. There's a full range of opinions and feelings scattered throughout the RV community. In social media channels, it appears the majority are hopeful, and that's where Workamper News resides as well.
We're all hopeful for a turnaround and successful summer Workamping season, even as it begins a bit later than expected. We hope you are all staying put as best you can, and following the guidelines set forth by your local health officials.
Survey
We put out a survey to help to give us all a snapshot as to how the Workamping community was affected.
Visit our survey results page here.
---
Don't let fear overtake you. Stay abreast with what's happening by reviewing content published by the industry. Communicate with your current or future Employers. Employers - let your Workampers know what's going on even if the start/end of your opportunities has not been revised.
Here are some links we've compiled we hope will assist you and our community:
An RV retirement is still possible - Wash Post article
The Nitty Gritty of Workamping During Coronavirus - article by Rene Agredano
State-by-state list campground and other closures
RVlife.com - what is open and what is closed state-by-state
State-by-state list of extended stay parks that are open
Alternative camping options - Boondockers Welcome and Harvest Hosts
RVTravel.com Coronavirus news that impacts RVers
RV Industry Association's response to coronavirus
Escapees RV Club's response to coronavirus
Help for RV park owners/operators from ARVC
RVs for MDs Facebook group - matching RVs to healthcare workers so they can self-isolate
---
Resources Regarding Unemployment During COVID-19
This is a sticky-subject, and there are no overarching answers when it comes to Workampers and unemployment. In normal times, we hope that Workampers understand that the positions they take on are seasonal, and that the purpose of unemployment insurance is to help folks who are experiencing downsizing and layoffs to maintain their lives until new employment can be found.
But we know that "normal" has gone out the window and flown the coop. There are many discussions floating around on social media, so we wanted to compile some resources that we hope will assist Workampers who believe they are qualified to file.
---
Take action to help the community and fellow RVers.
We need RV parks and campgrounds to stay open - not to encourage travel, but - so RVers can continue to shelter in place and stay in their homes on wheels. Please take a look at the following article that Escapees RV Club has compiled here. It includes guidance on how to contact your elected officials and sample letters to send them.
You can help by signing this petition from Truck Camper to keep RV campgrounds open
---
Workampers Are All In This Together - Free Webinars
Part 1 - Recorded April 15
Watch the recording on our YouTube channel here.
Part 2 - Recorded May 15
Watch the recording on our YouTube channel here.
Join us as we hear from a group of Workampers made up of couples, solos and families with children who have volunteered to share their knowledge, the challenges they are facing, and how they are staying safe during this difficult time.
---
Workamper Employers - Free Webinar Roundtable
Recorded Wednesday, April 1
Recording available in our Media Library for members.
A roundtable discussion with Workamper Employers - hosted by Workamper News. Let's talk about how you are handling the current situation that the world is facing. What steps can be taken to continue forward in these uncertain times? We can share what we are seeing and hearing.
Question from the webinar that we later posed to a CPA/Attorney: What kind of workman's comp or liability does an employer have to have if their staff is cleaning and they do not have PPEs available to use? His answer: My guess is that unless an employee could 'PROVE' they got the virus AT WORK and you were forcing them there without the option to work from home, they MIGHT be able to claim Workers Comp. But again, no liability to the business owner unless you were negligent. That's why you have Workers Comp in the first place.

Listen in to The Workamper Show – a free, weekly podcast...
Read more


Simple Maintenance Steps for RV Air Conditioners

We have been using WORKAMPER NEWS for over ten years. We have gotten...
Read more