Kitchen Craft Monthly Jobinar Series-Feb
Thursday, February 22 2018 - 12:00 pm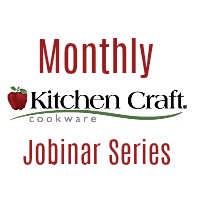 Special Job-Fair-Style Event! Learn everything you need to know about Workamping for Kitchen Craft Cookware!
This is a truly unique Jobinar event, as the Kitchen Craft Team has agreed to provide a monthly Jobinar Session for everyone interested in their Workamping opportunities. Presented Live by the Kitchen Craft Training Team, you'll get to see and hear the details of this big income opportunity!
A big first step in the process of learning if this opportunity is right for your future! Come find out how you can join the team of Workampers hosting demonstrations across the country! Attend live to ask your questions.
Join Us Feb. 22, 2018 @ 12noon CST
10 a.m. PT/ 11 a.m. MT/ 12 p.m. CT/ 1 p.m. ET
To register or to learn more about this event:
Why are "Joe & Martha Workamper" having the times of their lives...
Read more
I am Workamping in Yellowstone National Park for 3 months with Delaware...
Read more