Stay Tuned for the 1st Issue of Workamper News in 2018
Posted by

214397

on 12/13/2017
The new issue of Workamper Magazine is currently in production and will mail out soon. Members will be able to view featured content, help wanted ads and more in this 68 page lifestyle magazine, for people who work and travel.
The first issue of the New Year will feature a variety of content to keep readers interests peaked. Articles include: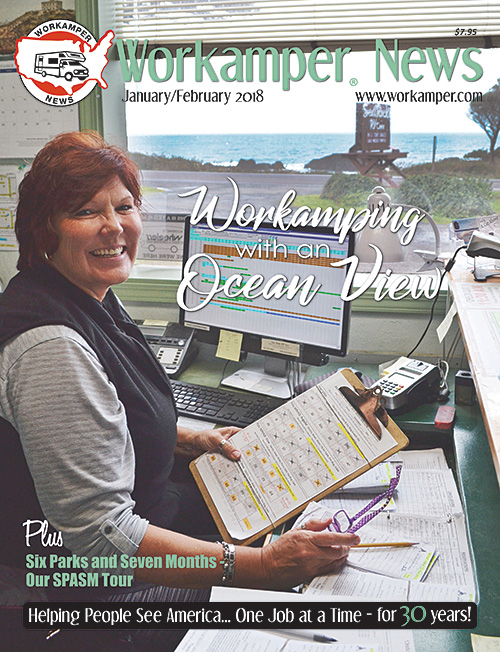 Workamping with an Ocean View- A feature article focusing on Workamping at Seal Rocks Campground along the beautiful Washington Coast. Workampers are featured, in various roles as well as an overview of the Workamping program and park history.
Six Parks in Seven Months- A Workamping Tour told by Jon Hockersmith. He narrates the time he along with his wife Sherry skipped the typical seasonal commitments and opted to hop along for 6 months as they made their way to Alaska.
From Point A to Point B, While seeing everything in-between: Great tips on using one of the best road trip planning apps/programs available. Learn how to plan your Workamping road trips while taking time along the way to see and do!
9 Steps to Get Your Workamping Jobs: Tired of worrying about if you'll get the job you applied for? Take and incorporate these 9 simple steps on how to get Workampoing Jobs using a few tools we have online!
Getting Outdoors with SONODRS: A new product entering the RV Market is the Sondors Fold- a folding e-bike that can help you go farther with little to no effect at all. Read how it helped get its new owner outdoors and into exercising, by just making it fun!
In addition to good reads, Workampers looking for jobs for upcoming seasons will have over 30 pages of opportunities to choose from!
Stay tuned for the release of the new magazine later this month!

July 13, 2014
I wanted to thank you for being there for us Workampers. I know I don't...
Read more