More Jobs & Articles in the Sept/Oct Magazine
Posted by

120632

on 09/03/2020
Read the Sept/Oct issue of Workamper News Magazine Online Now!
Watch this video for a preview!
Featured Article: Traveling to Your Next Workamping Job... On the Cheap.
One of the largest expenses of RV travel can be, well, the travel part. Driving an RV across the country can cost more than most plane tickets rather quickly. Everyone has their own money-saving travel tips. Not everyone agrees on whether one tip or another is worth the savings. The important thing is to save the money on the things you can, so you have more to spend on the things you want.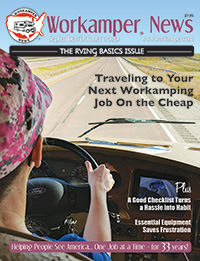 This issue also includes...
Help Wanted Ads for now and future seasons
Essential RV Equipment - Saves Frustration, Improves RV Life
Setup Your Site Sanely: A Good Checklist Turns Hassle Into Habit
Full- or Part-time RV Inspectors Enjoy a Profitable Business
Workampers Helping Workampers
Leave Ordinary Days Behind - Start Your Path to RVing with The Dreamer's Journey
How to Find a Workamping Job
The New Zig Ziglar Column
and more!
Click here to visit our Online Magazine Archive to view the Sept/Oct issue. Note: You will need to be logged in at Workamper.com to view it, as it is a benefit of your Workamper membership. If you're not logged in yet, click here.
Diamond & Platinum members - you have access to this new issue now. Intro & Gold members, y'all can now view the July/Aug issue; your access to the Sept/Oct issue will begin in October (after we publish Nov/Dec).
Login to www.workamper.com and click on the Online Magazine button on your Dashboard, or click here to go straight to the magazine page if you're already logged in.
To upgrade your membership level for access to more tools (and immediate access to the Sept/Oct issue), login to www.workamper.com and you'll find an Upgrade/Renew button on your Dashboard.

November 8, 2023
Receive 6 Bonus Months When You Join - Renew/Extend - Upgrade Your...
Read more


Delaware North Yellowstone General Stores Summer 2024
November 16, 2023

July 8, 2020
I appreciate everything that you guys are doing for us.  I...
Read more