High-Paying Jobs, Route 66, and More in New Issue
Posted by

120632

on 06/20/2022
Read the July/Aug 2022 issue of Workamper News Magazine Online Now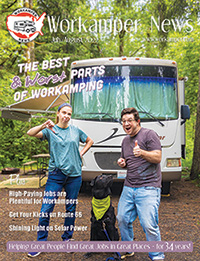 Featured Article: The Best & Worst Parts of Workamping
From Henley's Happy Trails: Many online influencers and Workampers who post on social media have an overall good time at their many Workamping gigs. But, like any life experience, there will inevitably be things you're not crazy about. While everyone is different in their personal tastes, you'll find our opinions on the best and worst aspects of Workamping after making a living on the road for over seven years.
This issue also includes...
Help Wanted Ads for Now and Future Seasons
High-Paying Jobs are Plentiful for Workampers
Before It Disappears, Get Your Kicks on Route 66
Shining Light on Solar Power
Work Wanted Ads to help Employers find their staff
The Most Powerful Job Search is Here! All About the Hotline
How to Easily Create a Workamping Resume
and more!
Click here to visit our Online Magazine Archive to view the July/August issue. Note: You will need to be logged in at Workamper.com to view it, as it is a benefit of your Workamper membership. If you're not logged in yet, click here.
Diamond & Platinum members - you have access to this new issue now. Intro & Gold members, y'all can now view the May/June 2022 issue; your access to the Jul/Aug 2022 issue will begin in August (after we publish Sept/Oct).
Login to www.workamper.com and click on the Online Magazine button on your Dashboard.
To upgrade your membership level for access to more tools (and immediate access to the new issue), click on the Upgrade/Renew button on your Dashboard.

September 6, 2023
Frequently Asked Questions about Workamping.
Whether you're...
Read more


How to use Workamper.com
June 7, 2021
Learn how to get the most out of your membership with this in-depth...
Read more
September 9, 2019
I'm thankful that when we decided to do this we weren't left to...
Read more